Previously Posted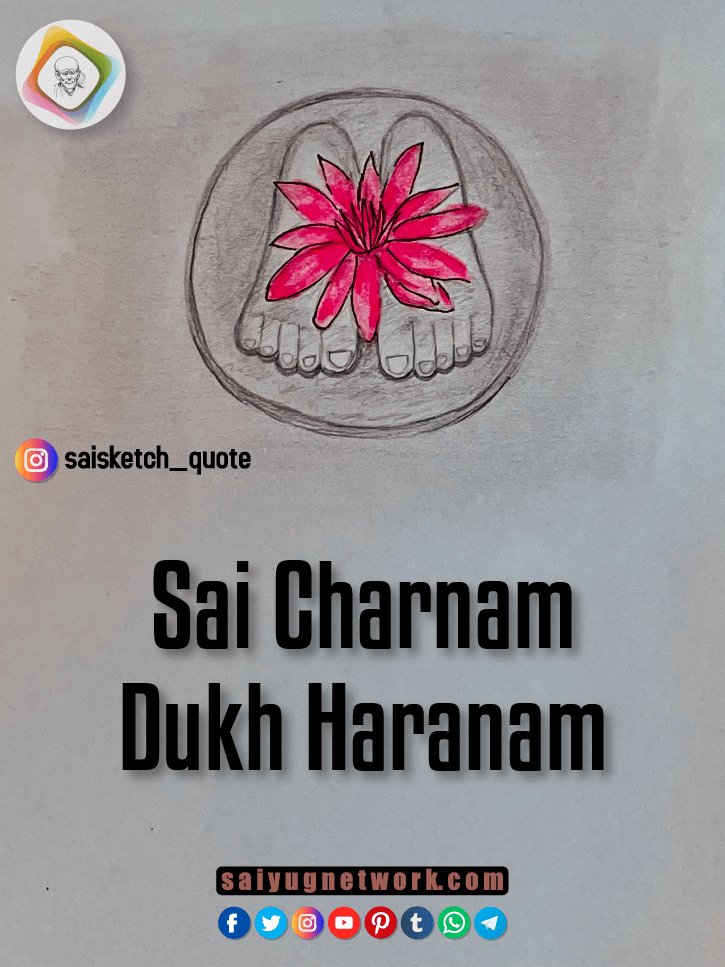 CHAPTER 17
EXPERIENCING DIVINITY
Saint Tukaram says in one of his Abhanga (verse) that the pleasure can only be obtained in the proximity of Saints or noble persons. The happiness that one gets at the lotus feet of Saints is infinite. It is unparalleled. Once, a person experiences that happiness he does not want to move away from those Lotus feet. He finds bliss everywhere. He forgets the sorrows of the mundane world and the troubles also vanish. He experiences peace, Shanti. The burning fire (of vasanas) inside gets extinguished. Body and mind become cool as stability is achieved. Ego creates the flames of fire but this happiness calm down the mind and ego.
The state of calmness is a very sweet experience. Attachment to the wordly objects burns out the knowledge, that is, the intellect. Indulgence in sensual pleasure burns out the body. But in the proximity of the Saints, the body, senses, mind and intellect calms down. Darshan, Sparshan, Sambhashanam, Smaran and Shikvan [seeing, touching, conversing, remembering and precept respectively ] of Saints can calm down everything that is burning inside. And if one is fortunate enough to get Their company, he gets intrinsic Peace, the absolute Calmness.
Laxman alias Tatyasaheb Nulkar was a devotee of Sai Baba. He was a judge in the court at Pandharpur. Once he suffered from some eye disease. Any object he looked at, appeared to him as a double image. He took leave and went to Jalgaon, where his doctor brother was residing. But the pains did not diminish. GuruPournima day was just approaching. So he decided to go to Shirdi, from Jalgaon. As he had planned only two days in Shirdi, he did not bring any baggage or medicines with him. He had put a bandage on his eyes and was resting in Wada. He could not go for Baba's darshan because of unbearable pain.
Next day, Baba sitting in Dwarkamai, said to Madhavrao, "Shamya, today my eyes are rankling and causing continuous pain". As Baba uttered this sentence, Nulkar found some relief from his pain. Gradually his eyes started improving without any treatment or medicine. After a few days they became normal. He went to see Baba. On His darshan he experienced, as if the ocean of love in his mind, was in its high tide. His mind reached ecstatic stage. Every iota of his body felt as if lightning was passing through it. That very moment he decided to remain at Baba's Lotus feet and not to leave them in any case.
Jiva is always in search of eternal happiness and unending pleasure because he is deprived of it in this transitory world. Tatyasaheb had passed through all the worldly bondages and experienced the deluded pleasures. But he met with the 'real happiness' and bliss when he came to Dwarkamai. That was a rich moment of his life, though it had come late. He met with a saint, nay but with God. Saint Nilobarai has said in his verse, "When one meets a saint who is merciful to the aspirant, it is the flash of happiness. By His grace, the grime which covers the intellect, is removed. Then the aspirant can see the Lord Krishna".
Exactly the same thing happened to Nulkar when he met Baba. It was quite natural that he decided to stay at his Lotus feet forever. For Nulkar, Baba was his Sai-Mata. "My Sai-Mata" Nulkar repeated the name constantly in his mind. When one sincerely calls God as "Mother", and surrenders to him, God will do everything for him. But how can one surrender? To make it simple, one has to understand that 'He is the doer and I am the instrument'; and God pervades everything in the universe. This is real Knowledge' and this Knowledge itself is God. And, if you consider this Knowledge as Mata, it is Bhakti (devotion). Bhakti is born out of Supreme Love. Immersed in the Supreme Love for Sai-Mata, Nulkar forgot all other fleeting things and he was determined to stay in the vicinity of his 'Mother'. When Baba intuitively knew his determination and listened to his plaintive call Aai, Aai, Baba decided to take care of him and He had to arrange for the 'instrument' that could serve Nulkar.
It was 1910 A. D. One morning Neelkanth Ramchandra Sahastrabuddhe was reading "Panchadashi", a sacred book when two of his close friends unexpectedly arrived at his house. The friends were Kakasaheb Dixit and Nanasaheb Chandorkar. They were discussing about various subjects, including Sai Baba. Nanasaheb casually asked Neelkanthrao, "When are you planning to go to Shirdi?" He answered, "I will go soon some time. Not yet planned as to when I will go."
Next day was Sunday. Kaka and Nana insisted upon him to go the very next day only. It was not convenient for Neelkanthrao to leave Bandra in that week because he had to withdraw his pension amount from the office. But Nana said, "Annasaheb Dabholkar will arrange to bring your pension. Now say yes and go". Nana also gave him ten rupees for fare, etc. Then Neelkanthrao had no way but to agree to his friend's insistence. He was doubtful, if ten rupees would be sufficient for going and staying at Shirdi. When he expressed it, Kakasaheb gave a note to his cashier in Shirdi, that he should give as much money as Neelkanthrao would require. He placed the note in the hands of Neelkanthrao. Now there was no reason to deny. Neelkanthrao boarded Manmad train the next day. He going first time.
He talking to his co-passenger, who was young man from Kopargaon, a big town near Shirdi. He had taken M. A. degree and was doing post graduation in Law. Neelkanthrao asked him if he knew Sai Baba. The young man answered, "That mad pir? I know him very well." Listening to his sarcastic remark Sahastrabuddhe confirmed his own opinion that Shirdi was a town of insane people, who had given undue importance to Baba. Monday morning he reached Shirdi. The tongawala, (driver of a horse-cart) left him at Sathe-Wada. He was then searching for the cashier of Kakasaheb, who was none other than Madhavrao Deshpande. While searching for the cashier, Neelkanthrao saw Laxman Krishnaji Nulkar. They were very old friends. At first Nulkar did not recognize him, as many years had passed over. But when Sahastrabuddhe told him his name, they embraced each other. Then Nulkar took him Dwarkamai.
Tatyasaheb Nulkar paid his obeisance to Baba, and stood aside. Sahastrabuddhe also imitated his action. Baba immediately said, "Pay your salutations to Tatya and Bapusaheb also. There is no disgrace in doing so". Neelkanthrao followed Baba's order and stood quietly. Baba again advised him, "You should be in service of Tatyasaheb". Baba repeated his advice on the second day and the third day at the time of Aarti. (Previously, Sahastrabuddhe had met some saint-like persons (Sat-Purush). Among them was Siddharudh Swami Hubli-Dharwad, Shankar Bhatji from Elichpur and Paramahans Khare from Pune. On seeing them he believed the existence of such Sat-Purushas (noble persons), but he was doubtful about the authority of Baba from the beginning.)
In those three days he jokingly said to Nulkar many times, "Tell me; what way should I serve you?" Nulkar knew from his tone, that he was not serious in asking question. The tone also reflected some sarcasm for Baba. Many times Nulkar neglected his attitude. But finally he said, "Neelkanthrao, your mockery hurts me deeply; at least now, you please stop it". Then Sahastrabuddhe did not repeat that sarcastic question.
Sahastrabuddhe went to Baba with a determination that he would freely talk to Him. To Baba he said, "Baba, your talk is always figurative and symbolic. Your great devotees listen to You and then try to find the meaning of Your words, in their long discussions. But I am not that clever. Please tell me, whatever You want to tell, in plain explicit words". Over this, Baba only said, "Alright".
After a few days when Sahastrabudhe and Tatya were there in Dwarkamai, Baba said, (not addressing to Sahastrabuddhe), "To experience Me, one should have a fire (of devotion) in his own mind. One, who has the earnest desire to know Me, only can understand Me. If there is fire in the stove (earthen stoves of olden days), then only the raw material can be cooked (The intellect becomes ripe and attains maturity). But if the material is kept on the side stove, it will not get cooked as there is no direct fire. So, if there is a lack of 'fire' in your heart, you will have no experience".
Again His talk was metaphorical. But Sahastrabuddhe somehow knew that it was meant exclusively for him. He gathered the meaning that unless he develops love and devotion in his own heart, he would not be able to understand Baba's divinity. Spirituality is an individual path. One's intellect cannot be ripened or cooked on the fire (desire for knowledge) in other's heart. Sahastrabuddhe promised to Baba that he would not leave Shirdi unless he gets the divine experience. Baba's reaction was just "Okay".
After every 4/5 days Madhavrao would ask Baba, "Give Your permission to Sahastrabuddhe, to go back to Mumbai". Baba ignored. When He was asked again about it, He said, "Shamya, let him linger around the masjid. I want to get some work done by him". Next time Madhavrao asked the same question when Baba said, "Oh Shamya, he also is Mine. Let him stay here".
Till then Tatya Nulkar's health was quite good, though he had insulin deficiency for many years. He was Diabetic. But suddenly he took seriously ill. Sahastrabuddhe decided not to return to Mumbai until his friend would become well. Tatya got an abscess. It was operated on. But he developed many more boils afterwards. It became impossible to treat him as he was a diabetic patient. Neelkanthrao was constantly with him and nursed him with compassion and love. Then all the devotees including Tatya understood why Baba had asked Sahastrabuddhe to serve Nulkar. With tears of gratitude in his eyes Tatya said to Sahastrabuddhe, "On the very first day of your arrival, Baba had asked you to serve me. You have obliged me. Baba detained you here only for me. How much He cares for His devotees".
Meanwhile the two sons of Tatya Nulkar had reached Shirdi. Tatya asked them to sing his favourite Bhajan (a devotional song), Sahastrabuddhe put some 'Tirth' (Holy water collected after washing Baba's feet), and Udi (sacred ash) from Dhuni, in his mouth; Tatyasaheb concentrated his eyes on Baba's photo and he peacefully breathed his last at the day-break.
Just on the previous day of Tatyasaheb Nulkar's death, Baba had said to Madhavrao, "According to My instructions Tatyaba stayed here and he made his life meaningful". After Baba's words to Madhavrao, Tatya's condition worsened very fast. Baba knew it beforetime. Tatyasaheb's elder son was a practicing doctor and he was running a hospital in Jalgaon. But he also could not imagine that the death was so near. All devotees said that such peaceful death at the Lotus feet of Baba with His name on the lips, was an indication of merits earned in previous births. Neelkanth Sahastrabuddhe became an ardent devotee of Baba.
There are many types of Karmas (actions) in this ephemeral world. But these actions will never give eternal pleasures. On the contrary attachment fastens Jiva, more and more firmly to the world. Jiva gets burnt in the fire of attachments. Spirituality makes Jiva happier without the subjects. To be in the company of Saints and great men (Mahatma) is the easiest way of spiritual practice (Sadhana).
END OF CHAPTER 17
© Author – Dr. Keshav Bhagwant Gavankar (Annasahib Gavankar) – Explicit Rights To Publish To Shirdi Sai Baba Books.com (Member of SaiYugNetwork.com)