Previously Posted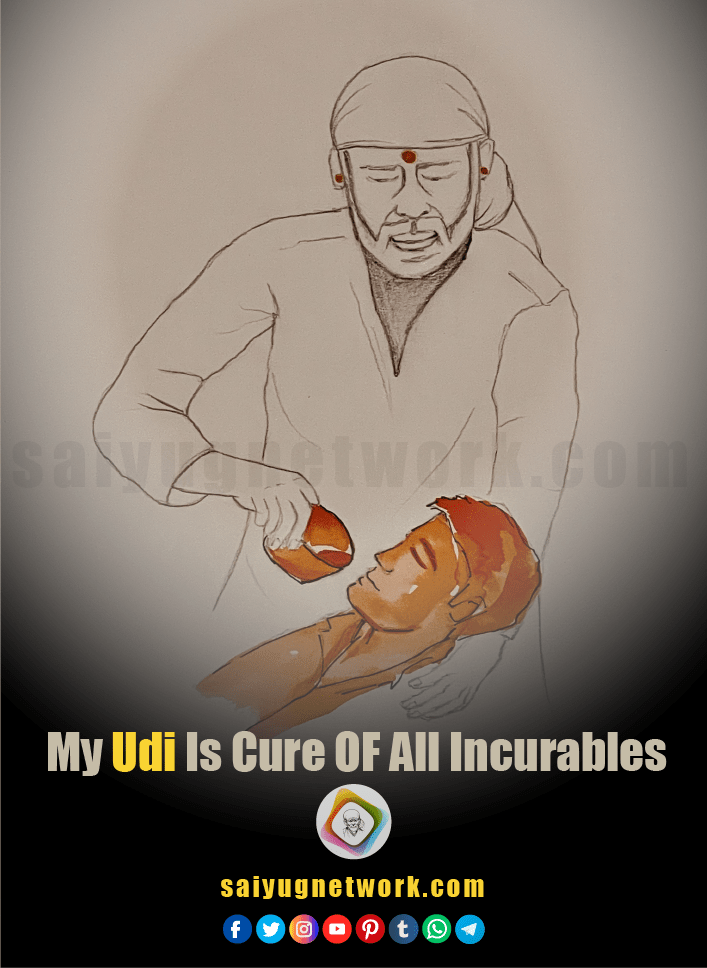 Continued CHAPTER 13
TREASURE OF LOVE
Mrs. Saraswati Dixit was extremely tense. She decided to call Kakasaheb's elder brother from Nagpur. She had a hope that Kakasaheb would not decline his brother's request and stop his obstinacy. But Kakasaheb strongly opposed her idea. He told her not to trouble his brother and to rely fully on Baba, He said he would finally get well according to Baba's words. She was convinced by seeing her husband's utter faith in Baba.
Dr. Dimonty was one of those friends of Kaka who held the opinion that Kakasaheb had spoiled his life by coming under the influence of the 'mad Fakir. Despairingly he asked Kaka, "You have lost nearly everything because of that Fakir. Now, why do you want to throw your precious life for Him? Is He going to cure you? If such Fakirs and sadhus could cure the patients, then what is the necessity of the hospitals and doctors in this country? You do not follow my advice; do not take any medicine; then why should I come here at all? I am not coming from tomorrow".
Kakasaheb's reaction was calm and sober. He said to the doctor friend, "What you think, is correct from a doctor's point of view. For me, you are not only my doctor but an old, good and loving friend. Please keep coming here and oblige me. I like your company and, don't worry about my illness; I will be well within four days. You won't meet a failure in my case".
Dr. Dimonty was really a good friend. He agreed to come everyday to see Kakasaheb. Mrs. Dimonty too was a doctor. She too came frequently to enquire about Kaka's condition. On the ninth day, Kaka's condition became critical. He was restless and could not even talk. People around were worried. But Mrs. Dixit and Madhavrao Deshpande had high hopes, as they had an unwavering faith in Baba. But all others around were deeply anxious. In those days there was no remedy for Pneumonia. The disease was supposed to be fatal.
To everybody's surprise Kakasaheb's body temperature came down to normal that night. He could sleep well. Next morning he was still better. Dr. Dimonty and all his friends heaved a sigh of relief. Everybody was convinced that Baba and Kaka was the ideal duo of Guru and disciple.
It became clear that Baba wanted Kaka to be free from the calumny of the people, especially Kaka's friends in Mumbai. This was the reason behind sending him to Ville Parle. Otherwise Baba could have cured him in Shirdi itself, as He had done in case of Buti.
Shrimant Bapusaheb Buti had caught Typhoid. That too was a dangerous disease in those days. He had a full faith in Sai Baba. Those days, Buti was staying in Dixitwada. Construction of Butiwada was in progress. Bapusaheb had gone too weak to walk. So one of the devotees used to carry him on his everyday, to bring him to Dwarkamai. Generally Madhavrao Deshpande used to do this seva for Bapusaheb. That routine was continuously observed without a break, until Buti was completely cured. This way many of the devotees were cured by Baba while they were in Shirdi.
When Kakasaheb, for the time came to Shirdi after a complete recovery from illness, Baba asked him, "Come Kaka, tell me what is the reaction of your friends in Mumbai, now?"
The question itself revealed that Baba had purposely sent Kaka to Mumbai. Of course His purpose was fulfilled. Kaka became very happy as he knew that his Guru could do anything for His dear disciple.
During, Mahabharat period, Pandavas also had such Divine love from Srikrishna as Kaka had from Baba. God Krishna had love, compassion and affection in His mind for Pandavas. Whenever Lord came to them everyone used to get drawn to Him. Everyone of them used to hover around Him, thinking that Krishna loved him or her the most. With the Divine love for all of them, Krishna always protected them. Dharmaraj, Arjuna, Nakul, Sahadev and Droupadi used to remain lost while in Krishna's vicinity. But Bhimsen used to stay somewhat away from him. His brothers thought, "God Himself is here with us, but why Bhima is engrossed in some other thoughts? Is he not drawn to God, like us? Ocean of love has come to us. And see him; how aloof and dry he remains. He is our brother but why is he so different from us? He is rough, rude and coarse."
Actually Bhima was very soft at the core though his body was rough and tough. In one of his verses (Abhangas) sain ChokhaMela says, "Even if a sugarcane stick is bent at many nodes and not straight like a geometrical straight line, its juice is not sour, but it is very sweet."
Similarly Bhima had lots love for God Krishna. He knew that He was the Creator and Sustainer of the universe. But he was concerned about his Guru, brother Dharmaraj. For him Dharmaraj was his mother, father, friend and Guru, all in one. That was why he used to worship him. He always wanted Dharmaraj to be happy comfortable. Everyday early morning Bhima used to prostrate at his Guru's feet, then wander in jungle for some prey. After coming back again he used to pay obeisance to his brother. That time he used to observe his Guru's face and judge whether Dharmaraj was comfortable or otherwise. He was so much attached to his Guru that he never worshipped any deity or sang its glory. He was immersed in 'Guru-Bhavana' (constantly thinking about Guru). From his outward behaviour other Pandavas thought that he did not have that sort of love for Krishna as they did. To wipe out this blame given to Bhima, Krishna arranged an event.
According to the custom observed by the Pandavas, it was a beginning of 'Dhanurmas'. Everyday during that month, Pandavas would dine only if Krishna, their God, would accompany them. When the preparations would be ready, any one of the five brothers would go near the Tulsi-Vrindavan* and summon Krishna who used to appear instantly. (*It is a place in the courtyard of a house where a basil-tulsi-herb is planted. The herb is treated as an auspicious plant and is worshipped according to Hindu culture.)
But one day it did not happen. However humbly the requests were made by Droupadi and invoked by other Pandavas, Krishna did not appear. Pandavas were nervous and thought, "Is our God angry with us? Or, is He engaged in some other important mission towards some other devotee?" Everybody except Bhima had tried to pray and call Krishna. At that time Bhima had been to the forest as usual. When he returned at lunch time he went to offer obeisance to Guru Dharmaraj who seemed worried. Bhima thought, "My Guru has a friend like Krishna who is protecting him, sustaining him and taking care of him. Then why should he be sad and miserable? And if that is the case, why should I survive to see him distressed?"
Bhima asked Dharmaraj, why he was down-hearted when he had Krishna as a friend. Dharmaraj told him about Krishna's absence. He said, "Krishna was not answering their prayers and that was the reason for their sorrowful mood." He further asked Bhima to pray and try his luck.
Bhima consoled his brother and came near Tulsi-Vrindavan. Facing towards Dwarka he said, "Oh God Mother Krishna, why are You so late today? Why are you not responding to my Guru's call? Do you know how much he is suffering because of Your harshness? If You are unaware of it then why should I survive and live in this world? I cannot see my Guru unhappy. Oh God, see; I am going to hit my head with my mace. If You want me to be alive, come immediately."
Saying so, Bhima lifted his mace, raised it up in the air and started revolving it. Just at that moment Krishna appeared and held the mace with His Hand. He took Bhima, to His bosom and exclaimed with love, "Oh! See; I am here. Are you not satisfied? Come; it is already late; ask Droupadi to serve and we will dine. Let us go inside and see Dharmaraj".
Both of them went inside from the courtyard. Dharmaraj was very happy to see Krishna and was happier to know that Krishna had responded to Bhima's prayer. Bhima had won God Krishna's love by his Guru Bhakti. This event also proved the intense love in Bhima's heart for Krishna as his prayer was answered.
Baba had the same fervour for Kaka Dixit, as Krishna had shown for Bhima.
Kaka had emptied all his treasure of love at the Lotus feet of Sai Baba. Kaka had a hobby of reading old sacred scriptures and spiritual books. The choicest books he used to read repeatedly, e.g. Bhagwat written by Eknath. He would not merely read it but contemplate on the matter. By the grace of his Brahma-Sampanna-Guru Sai Baba, he had experienced the 'Dnyana'. He always imagined Srikrishna in place of Baba and himself as Uddhava, as described in Bhagwat. In the above mentioned sacred book, SriKrishna has given the knowledge in the form of advice. At the end Uddhava has made a following request, "Oh, Yogeshwar Krishna, I surrender to you. Now kindly tell me as to what should I do to remain attached to your Lotus Feet? How could my love and devotion remain forever steadfast and focused towards you?"
Bhagwan Krishna answered, "Now you go to Badrikashram. River Ganga is known as Alaknanda, there. It originates from my toe. Take a bath in that holy river. Perform 'Sandhya' and you will come out wholly purified. Even if you just take a darshan of the Alaknanda river the slightest grime of sin, if it is there will be washed off".
That was the command given to Uddhava by Krishna. Kakasaheb assumed that his Guru, Sai Baba is giving him the same order. With that faith in mind he planned to go to Badrikashram. This pilgrimage was not easy. In those olden days because of lack of roads and other infrastructure one had to walk and climb miles together on foot through the Mountain Himalayas. Kaka was already in his old age. His monetary condition was bad. He did not have anybody to look after him. Even then he had decided to go. By the grace of his Guru, he reached the destination; took darshan of river Alaknanda, bathed himself in the holy waters, paid homage to his ancestors and after paying obeisance to Badri Narayan, he safely returned home.
Eventually Kakasaheb finished all his temporal duties. On the eleventh day after full moon night in the month of Jyeshtha, he left his body without any suffering or pain and merged with Sai Baba. Two miracles happened in Shirdi on the same day. A big sturdy branch of Neem tree under which Baba used sit, suddenly broke. And the second one, out of the three pinnacles Dwarkamai, one pinnacle suddenly broke and fell down.
END OF CHAPTER 13
© Author – Dr. Keshav Bhagwant Gavankar (Annasahib Gavankar) – Explicit Rights To Publish To Shirdi Sai Baba Books.com (Member of SaiYugNetwork.com)