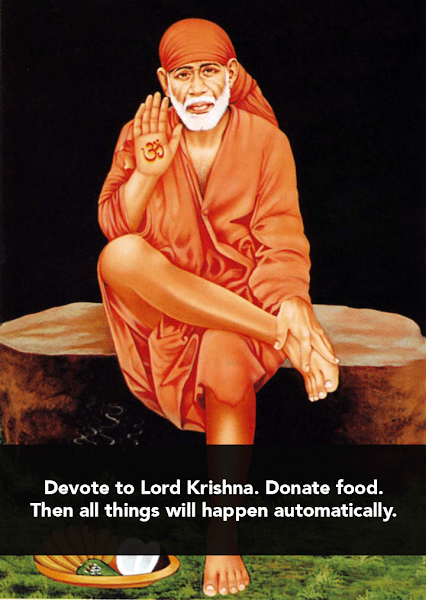 This is forth part of chapter 6 of the divine book "Scribblings of A Shirdi Sai Devotee" written by an ardent and staunch devotee Shri Suresh Chandra Gupta ji from New Delhi.
Devotee readers who have missed earlier chapters can read from the links below.
Beads from the necklace of Sai Bhakti
37. Only the one who himself possesses can give you something. The one who himself has nothing, how could he give you anything? Therefore, when you do good to someone, never expect anything in return. If you do so, you shall only, get disappointment. You are extremely fortunate for God has given you the capacity to do good to someone and be of use to him. Everyone does not possess this capacity? Why then do you harbour the desire to get something in return? Whatever you have done was through God's Grace. If you are the doer, why don't you do good to the whole world? Remove this feeling of ego from your mind and proceed ahead. Pray to Lord Sai that He should provide you more and more capacity to do good to others and that you may be able to wipe off the tears of the wretched and the forlorn.
38. Never forget where you started your life from and how following zigzag paths, you have reached the present spot. The invisible hand which has helped you to find your way, must always be remembered. Pray to God that your own body should likewise be of use to someone, Weaknesses are there in every person. Never see their weakness. Appreciate their good qualities and try to recognize the 'Aatma' full of divine virtues, which has provided him the inclination to do good.
39. Whatever exists in this world is sure to end. It is there today but could cease to exist tomorrow. The pleasure and pain which you experience today would also not remain tomorrow. Why do you then unnecessarily feel disturbed by these? Never aspire to have momentary pleasures. Be always in the look out for permanent pleasures which may provide peace of your soul and not to your body. Even emperors, around whom pleasures danced about, have faded away from this world, what to talk of you.
40. Baba had once said, "Only those fortunate one whose sins have been washed away, are drawn to me and take to my worship." We must develop an unflinching and absolute faith in these words and make them an integral part of our life. Our pleasures and pains, good or bad acts, infact all our burdens, we must learn to dedicate to Baba. We shall then find that our life has become extremely easy, simple and happy to live.
41. Money has a lot of value in life, but always keep in mind that money alone is not everything. Innumerable instances are there around you in which money could not be of any use and the man cast off his body in terrific agony. Money has immense value but one must have its proper valuation. One must not engage in earning money by any means fair or foul. Always remember that money is your servant and not master.
42. Your inner self is full of immeasurable energy. Limitless divine light resides within you. Recognise this strength, and endeavor toshape yourself according to the light within you. There is surely something within you which has drawn the abounding affection of many a people towards you. Try to discover this trait within you, dive deep and illumine your inside and outside with that light. There is nothing impossible. Only a firm determination to achieve your goal and to be of service to someone is needed.
Continued…Chapter 6 Part 5
---
More E-Books To Read

The Fragrance Of Devotion In Sai
© Shirdi Sai Baba Life Teachings and Stories – Member of SaiYugNetwork.com